Vendor Spotlight | Gillian with Mankin Mansion
Today we're meeting… Gillian Zehr, Wedding and Event Planner, with Mankin Mansion. Gillian is giving us the inside scoop behind the wedding process and spilling her secrets… Keep reading to learn more!
If you care to share, how did you get to where you are now? What drew you to the wedding industry?
It is a really funny story actually! Firstly, I knew that I wanted to be in the industry after I spent a gap year in London, England working for a non-profit and helping them to organize their major charity ball. Something about events spoke to me on a deep level. During college, I worked with a few different organizations on campus to help with their events. Once I decided that I wanted to move to Richmond, VA after graduation, I started to look for event jobs. That is when I saw a freelance wedding planner was hiring assistants. I did my first shift with her and that sealed the deal! I loved everything about wedding planning and knew I wanted to pursue that as a career. Then, all thanks to my now fiancé's father, I got into contact with Meghan Ely. She took time out of her busy day to talk with me about my experience and give me pointers on how to move up in the wedding industry. A few months later, she let me know that Mankin Mansion was hiring and got me in touch with one of the owners, Paula Ramirez. The rest is history!
What's your favorite thing about working in the wedding industry? 
There is a point during every wedding (usually it is when one of them is walking down the aisle, during one of the special dances or when the main dancing starts) where the couple looks unbelievably happy and I just get a huge smile. I take a moment to myself and reflect on the planning process; our first meeting, emails, phone calls, bouncing around ideas and I cannot help but feel… GOOD! It feels so good to know that we are helping our couples create their dream wedding.
What's a unique tip you tell your couples?
The common tradition with weddings is that you do not see each other at all until you walk down the aisle. On the contrary, my unique tip is to see each other in some way before that moment. This can be as extensive as spending the night together and walking up next to each other, simply getting breakfast together before you head in your separate directions, FaceTiming for a bit before getting ready or even doing a first look before the ceremony to really see each other. Remember, you are marrying your best friend. Seeing them, talking to them, even just touching their hands before you walk down the aisle creates a special moment for just the two of you and 100% calms the nerves. If this is something you really do not want to do, make sure you carve out 10 minutes to be alone together with some treats from catering and the drink of your choice after the ceremony. It changes the whole atmosphere of the day either way!
What's your best piece of advice for couples planning a wedding? 
My biggest tip is to select a day of the week that you and your soon-to-be do not have much going on and make that your wedding planning day. Do not worry about wedding planning, unless it is convenient of urgent, until that selected day and then put a solid 2-4 hours into planning. This is tremendously helpful so that you do not procrastinate, do not over plan and can focus on life things outside of wedding planning. Pair this with a date night and enjoy yourselves.
What are your favorite wedding trends right now?
Bright pops of color! It just adds that umph to weddings!
Seating charts where the seating chart card is taped to a mirror, it is so beautiful and unique.
Sip N' Solve! Let's see how well guests know the couple!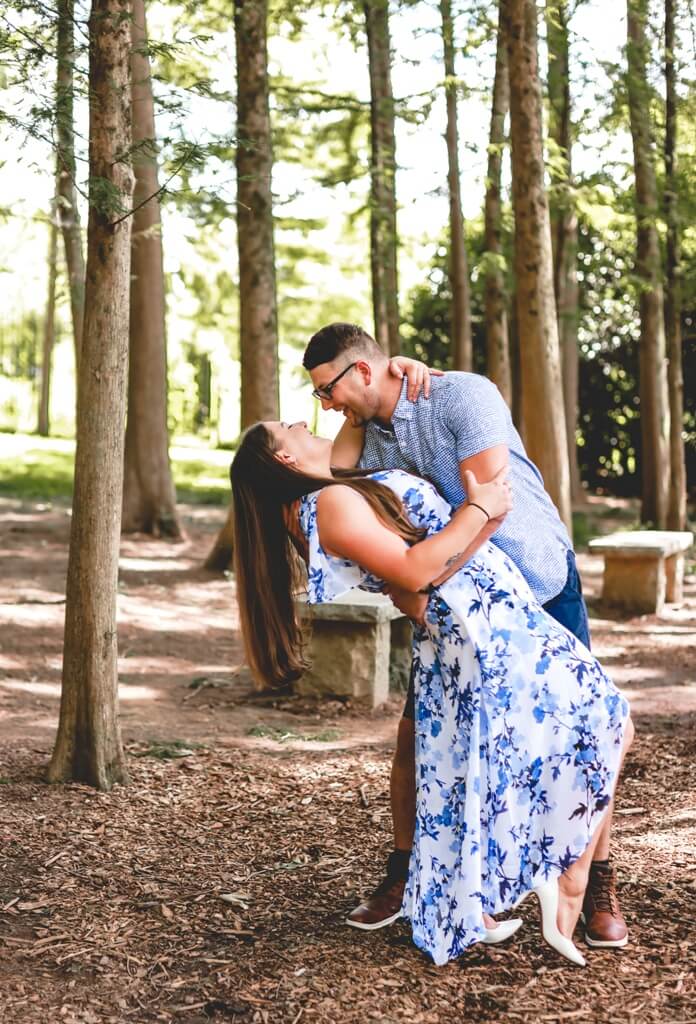 What is your favorite 'first dance' song?
Simply the Best by Tina Turner (specifically the Schitt's Creek edition) or I Am Yours by Andy Grammer, because the couples who chose these songs chose the absolute best songs for themselves and that is what the first dance is all about!
What's a funny/awesome story from a wedding you've worked?
I loved what one of our brides did last year with her wedding party. She asked them to each choose two dresses or suits that they would want to wear for the wedding and then the group voted on which one they liked the most for each person. It turned out lovely and gave the party the opportunity to showcase their own style.
How do you de-stress?
A foot massager (one of the best gifts I have ever received), a glass of cabernet sauvignon, a cheese, cracker, fuji apple and salami mini snack and a long shower! (I am not kidding, those ingredients never leave my fridge!)
What is the last book you read, or movie you watched?
I am a HUGE movie nerd. I just rewatched Good Will Hunting for the millionth time after a wedding. It is my favorite movie! As of writing this document, the very last movie I watched was Penelope on Amazon Prime. Definitely worth it for a cute, quirky and funny movie!
What's a fun or unusual fact about you?
I have watched almost every episode of Survivor and my dream is to be on the show one day!
I horseback rode for years as a kid and teenager and continue to do so every chance I get!
Do you love to travel? If so, what are some must-see destinations or where to next?
Yes, I absolutely love to travel. One of my favorite destinations in the US is the Grand Canyon or anywhere with a beach. The Grand Canyon is truly a spectacular wonder and I highly recommend visiting. Some of my must-see destinations abroad are Petra in Jordan, anywhere in Istanbul, Turkey and most specifically King Herod's Palace in Caesaria, Israel.
Anything else you want our followers to know?
I am an open book and honest. If you want or need advice about something, even if I do not know the answer, I will help you find it or give you my professional advice. I will also always work with you to find the best solution possible!
I am getting married in September of this year at Mankin Mansion! So, trust me, I understand what you are going through with wedding planning and I am here to help you in any way I can! My fiancé's name is Clay. He is one of the most incredible people I have ever met and easily the love of my life. He makes me laugh every day!
My family and friends are the most important people to me. I have four siblings; two awesome parents, bonus parents and some of the best friends I could ever ask for. I feel so lucky to have such a supportive community!
Follow me on Instagram @gillian.zehr!
Contact the mansion now!
Website: https://richmondweddings.com/vendors/historic-mankin-mansion-richmond/
Instagram: https://www.instagram.com/mankinmansion/